Shopify Mobile App Development
December 7, 2022
2023-03-30 0:37
Shopify Mobile App Development
Shopify Mobile App


Development that Brings Your Store to Your Fingertips
Full potential of Shopify store with a Custom Shopify App
Developing a custom Shopify mobile app can be complex, but it can significantly boost your e-commerce business. With the help of a Shopify mobile app development team, you can create a powerful and user-friendly mobile app that will help you to stand out from the competition and increase your bottom line.
Market Place Integration
Whether you need Shopify mobile app for your customers to access your products or services, or a more complex app with multiple features and integrations.
Testing & QA
Ensuring that your app is bug-free and performs well on all devices is critical to its success. Our team of testers and QA professionals will thoroughly test.
Android & iOS Support
We have some pre-ready mobile app templates where you can easily integrate your shopify store. It will work dynamically with your shopify backend.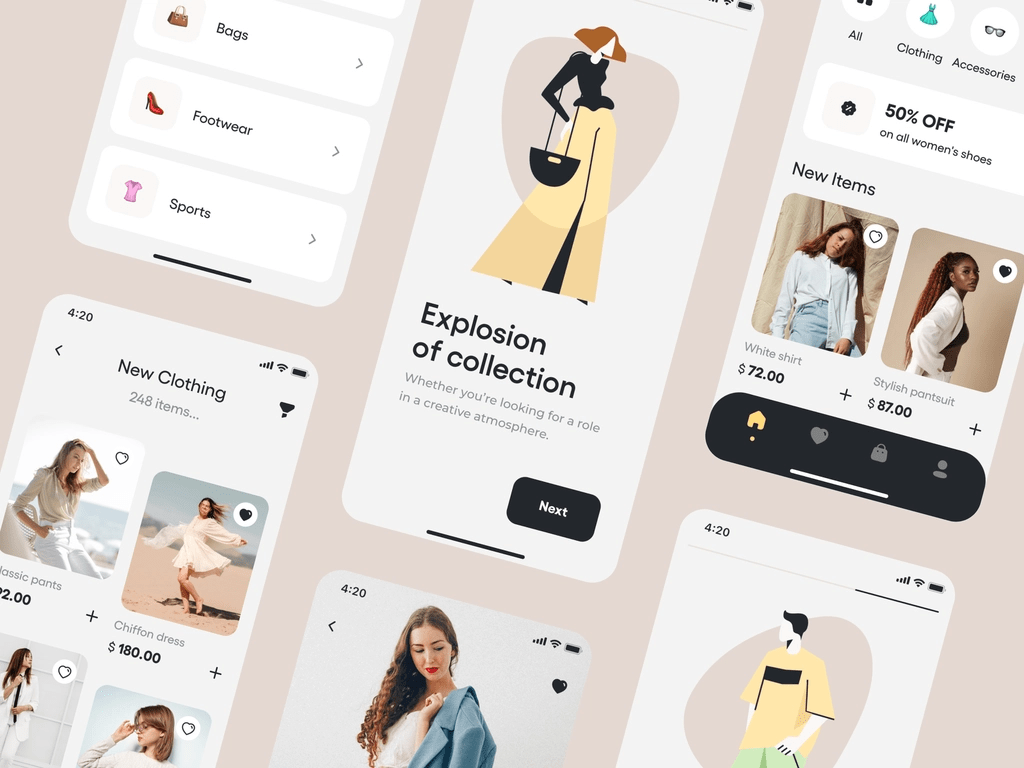 What about who use PC occasionally
According to data from Statista, the number of mobile users worldwide is expected to reach over 4.9 billion in 2021, compared to around 2.5 billion desktop users. Many customers don't have enough time or scope to browse your shop from the desktop. So in this case, if you have the mobile app, you don't have to worry about your next sales. 
Have more than 5+ Pre-Ready Templates and On Demand Service
Templates offer a wide range of design options to choose from, including modern, minimalistic, and professional styles. Each template is fully customizable, so you can easily use your own branding, images & Shopify Backend.
In addition to our pre-ready templates, we also offer an on-demand service for those who need a more customized solution. You will feel like Shopify Agency touch on your app.
We are open to discussion and very flexible when it comes to mobile app development and website design. Have a talk with me.
Transparent
Develop ~ Deploy
Codecony helps with the technical aspects of deployment and also offers ongoing support and maintenance services to ensure that your app stays up-to-date and performs well for your users.
We are ready to ANSWER
Here you go for some Frequently Asked Questions from most of the clients. We think so you may have some questions like this.
What is Shopify app development & how its works ?
Shopify Mobile App Development is the process of creating mobile applications for online stores which based on Shopify, its works with Shopify storefront API. Currently we have some Shopify mobile app template which you can test on your real device. 
Why is it important to have a Shopify Mobile App for my store?
To Increase your customer Engagement and sales you must have a custom app for mobile. cause a mobile app can expand your reach by making it easier for customers to discover and interact with your brand on-the-go.
What i will need to start ?
For start Shopify Custom app development, we need your current Shopify store link and the API access. You don't have to be worry how & where you will get the api key. Our expert team will handle that. Shopify app requirement some api access from your dashboard too.
Can I see live progress of my Project ?
Yes, We use proejct managments tools like Jira & Clickup. So you are able to see every steps.
We have pre-ready mate template, you can install app from playstore and appstore. Even if you want, you can directly purchase the ready template. Even we do provide customize Solution. One thing to be noticed that we are Shopify Partner as well.
ow much does Shopify Mobile App Development cost ?
The cost of Shopify Mobile App Development can vary greatly depending on several factors, such as the complexity of the project, the number of features, the design. At Codecony, we offer flexible pricing options and work with you to provide ready solution or create a customized solution that fits your budget and business needs.
Do you have Custom App builder or Drag and Drop App System ?
We provide many Shopify  App features but not in 
App builder or App maker. Cause we dont want to bind you in limitation to build Custom app development.
Happy clients
Check out some of our satisfied clients. Already we have done some Fantastic projects with them.