The Impact of Shopify on Small Businesses on 2023
The Impact of Shopify on Small Businesses on 2023
Let us be familiar with Shopify first. So, Shopify is an all-in-one e-commerce solution that lets small business owners create and run their online stores easily. It lets merchants sell their products online and manage those sales. 
Shopify also provides the luxury of secure payment processing and offers various e-commerce solutions, such as customizable storefronts and built-in marketing tools. 
With Shopify, small business owners can manage their online stores efficiently, streamline their operations, and focus on growing their businesses. So the impact is hard not to notice. But there's always more!
How Popular is it among Small Businesses?
Incredibly popular among small business owners, Shopify is assisting over 1.7 million Shopify merchants across the globe. Many small businesses have chosen this e-commerce platform to grow their business, and trust us when we say that the moment you start using it, you will be hooked on it. 
Among other things, Shopify Payments provides a secure payment processing solution allowing you to easily process transactions online. It also offers a variety of e-commerce solutions, such as customizable storefronts and built-in marketing tools, but we talked about that already, so let us dive into a somewhat deeper hole.
Benefits of Shopify for Small Businesses
Shopify will offer several benefits to small business owners looking forward to establishing an online store. The platform provides an easy-to-use interface, allowing you to set up and manage your online store quickly. 
Built-in marketing tools help small businesses stand out and attract customers, while multi-channel selling enables them to reach a wider audience. Affordable pricing plans ensure that small business owners can access e-commerce solutions that meet their specific needs and budget. Overall, Shopify provides a comprehensive e-commerce solution for you to grow your online sales.
The Luxury of Product Personalization
Shopify gives users the ability to let their buyer personalize their desired product very specifically. Consumers can choose their products, and they get to choose from the very best. Personalization also adds the option of a reward system where a regular buyer gets points and after a certain amount of points, they get to redeem those for a product of their liking.
Giving your buyers the luxury of having and presenting their preferences so easily, naturally boosts your sales. Who wouldn't want to visit your store where they are getting so many benefits so easily? There's more where that came from, so we would like you to check this out.
Easy-to-use Platform
One of the key benefits you will get from Shopify is its easy-to-use platform. You can effortlessly create an online store of your own and start selling physical and digital products with minimal setup to your target buyers. Not only that, It offers you a user-friendly interface that will make it easy for you to navigate and manage your stores. Shopify allows merchants to fulfill orders and track their inventory from one central location. 
Shopify also smoothly syncs up with various social media platforms like Facebook and Instagram, making it easy for you to reach your buyers where you can give them the best service they could ever hope for. Shopify also provides secure credit card processing, making it a trusted e-commerce solution for you.
Built-in Marketing and SEO tools
Shopify isn't just your ordinary e-commerce platform. As mentioned previously it's the all-in-one solution that helps you build your online business! One of the coolest features Shopify offers is its built-in marketing and SEO tools. These tools are like your very own secret weapon to help you boost your online presence and drive more sales. From optimizing your website for search engines to social media integrations and email marketing tools, Shopify has got it all covered.  
So, whether you're a brick-and-mortar store looking to expand your reach online or a budding e-commerce entrepreneur, Shopify has the goods to help you grow your business and become an online superstar!
Secure Payment Processing
When it comes to running an online store, security is a top priority for your business. This is true especially in small businesses because with the radius of the business being short, people forget to give security enough priority. Fortunately, Shopify understands this and aims to offer you a secure payment processing system called Shopify Payments. 
This system allows merchants to accept credit card payments on their online store and provides them with fraud analysis tools to help prevent chargebacks. On top of that, Shopify Payments integrates seamlessly with Shopify's order fulfillment system, so merchants can easily manage their orders and inventory in one place. 
With Shopify Payments, you can rest easy knowing that your buyers' transactions are secure and their payments will be processed without any issues. So, if you're looking for a secure and hassle-free payment processing solution for your online store, Shopify Payments is worth considering!
Success Stories of Small Businesses on Shopify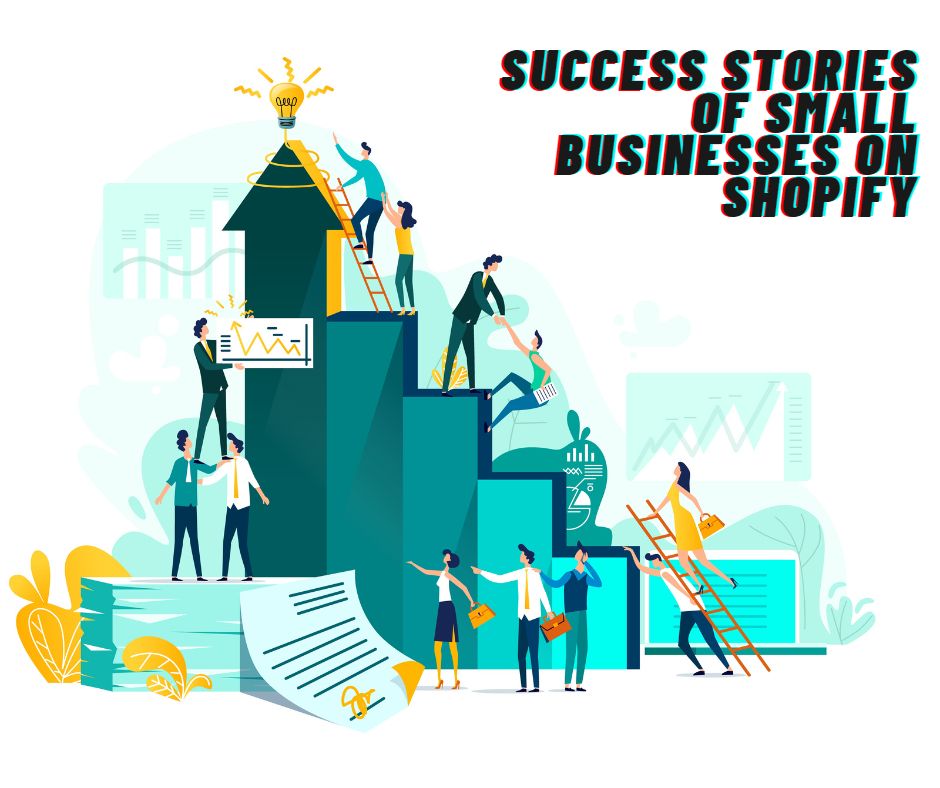 Shopify has helped numerous small businesses achieve great success in the world of e-commerce. One such success story is the Canadian-based company, KOTN, which specializes in ethically-made cotton basics. After launching its online store on Shopify, KOTN saw a 400% increase in revenue in just one year. 
Another success story is the American company, Beardbrand, which offers grooming products for men. Since moving its online store to Shopify, Beardbrand has seen a 600% increase in online sales and has expanded its product line to include apparel and accessories.
Shopify has also helped smaller businesses grow and achieve success. One example is the New Zealand-based company Little Koha, which offers curated gift boxes. After launching its online store on Shopify, Little Koha saw a 95% increase in online sales and was able to streamline its order fulfillment process.
The success stories of small businesses on Shopify go beyond just online sales, and these are just some of the stories that signify the success Shopify can bring to your online business.
Case Studies of Small Businesses that have Grown and Succeeded using Shopify
Shopify has helped small businesses worldwide to grow and succeed. The brands mentioned in the previous body – KOTN saw a 400% increase in revenue, Beardbrand experienced a 600% increase in online sales, Little Koha saw a 95% increase in online sales, and Blackbird Bakery used Shopify's POS system to manage both their brick-and-mortar and online sales. 
These case studies demonstrate how Shopify's e-commerce platform, secure payment processing, and user-friendly features can help small businesses thrive in the competitive world of e-commerce.
Challenges of Shopify for Small Businesses
Shopify may be the lifeblood of many small e-commerce businesses, but let's not forget that it's not all sunshine and rainbows. The platform does come with a few challenges, such as the cost of using Shopify Payments, limited customization options, and the need for ongoing marketing efforts to drive traffic and sales. 
But hey, what good things in life don't come with a few challenges? With the right approach and strategy, small business owners can overcome these obstacles and continue to thrive in the e-commerce world with Shopify. So, if you're ready to take on the challenge and build your online store, Shopify is ready and waiting to help you succeed!
Competition from other Businesses on the Platform
Now comes the age-old problem of competition – it's like a never-ending game of whack-a-mole! On Shopify, small businesses face competition from other merchants on the platform, all vying for the attention and wallets of online shoppers. But don't let that discourage you! With a bit of creativity and strategy, you can stand out from the crowd and win over customers. 
Consider offering unique products or services, providing top-notch customer service, and utilizing marketing tactics like social media ads and email campaigns. Remember, the competition may be tough, but you're tougher! So, roll up your sleeves, put on your game face, and get ready to crush the competition on Shopify.
Limited Customization options without Coding Knowledge
Now let us ask you a question, are you good at coding? If not, you may find the limited customization options on Shopify a bit frustrating. But don't worry, you don't have to be a tech expert to create an eye-catching online store! 
Shopify offers a range of customizable templates and themes that allow you to tailor your store to your liking without any coding knowledge required. And if you do have some coding chops, the platform offers even more customization options to take your store to the next level. So, whether you're a design guru or a tech newbie, Shopify has your back in customizing your online store.
Cost of Add-ons and Apps
Let's talk about the cost of add-ons and apps on Shopify. While the platform itself is reasonably priced, the cost of add-ons and apps can be a bit frustrating. These extras can be incredibly helpful for customizing your online store, but keeping an eye on your budget is essential. 
Now plenty of free add-ons and apps are available, and many paid options offer a free trial period to test them out. But the full-paid ones are the ones that give your store the boost you need. Seeing all that, it may seem like you need to break the bank to make your store stand out, but plenty of cost-effective options are available to help you succeed on Shopify.
Alternatives to Shopify for Small Businesses
In case you want some alternatives to Shopify, here are some of them we picked out for you that you can use: 
Comparison of Shopify to other Platforms in terms of Pricing, Features, and User-friendliness
When it comes to e-commerce platforms, Shopify is one of the big dogs. But how does it compare to other platforms out there? Let's take a look! 
In terms of pricing, some competitors like WooCommerce offer a lower entry point with no monthly fee but may require more technical know-how. As for features, platforms like Magento may offer more advanced functionality but require more development work.
When it comes to user-friendliness, platforms like Wix and Squarespace offer easy-to-use website builders but may not have as robust e-commerce features. Ultimately, the best platform for your business depends on your specific needs and preferences. So do your research, try out some demos, and find the one that works best for you!
Final Thoughts
At the end of the line here. Shopify is an excellent option for you if you are to optimize your small business. With all its benefits, it's a solid choice by a long shot. There are other options as well. Feel free to try those. Based precisely on your preferences you get to choose the right platform for you. 
However, there are challenges that you need to conquer regardless of the platform you choose to hop in. If needed, reread the blog! we are always here to help! So what do you think? Can you take up the challenge?
FAQs (Frequently Asked Questions)
Shopify is an e-commerce platform that lets small businesses create and manage online stores without breaking the bank.
How can Shopify help my small business?
With Shopify, you can sell your wares online, keep track of inventory, and even automate shipping, making your life easy
Can Shopify help me grow my small business?
Absolutely! Shopify makes it easy to expand your consumer base by optimizing your online store for search engines and social media.
Is Shopify user-friendly for me?
Shopify is designed to be user-friendly, even for those who can barely turn on their smartphones. The rest? Let's leave it to your imagination.
Can Shopify make me a millionaire?
We can't make any promises, but Shopify has helped countless small businesses succeed by providing an affordable and accessible e-commerce platform.